Whiteside

My Whiteside line traces back to
William Whiteside
Senior who was born in 1710 in Ulster, Ireland and died in 1777 in Tyron County Virginia. He was married to Elizabeth Stockton born 1720 Lancaster County, Pennsylvania and died in 1796 in Rutherford County North Carolina. One of their children was Green Mountain Boy. Captain John Whiteside who fought in the American Revolution. One of his sons was
General Samuel Whiteside
who is famous for capturing
Black Hawk
during the Black Hawk War.
He is also famous for commissioning Lincoln into the union army.
Complete information on this line can be downloaded from my GED.COM file by request.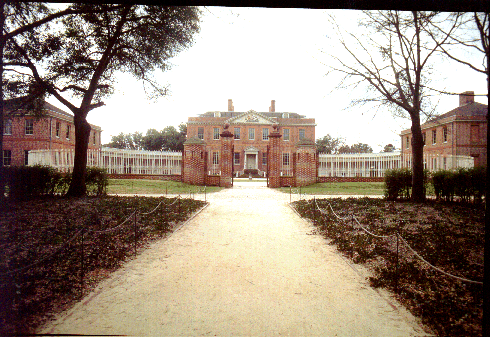 The Tryon Resolves were also known as a Minor Declaration of I ndependence
and were signed 1 year before the official Declaration of Independence
The Tryon Resolves ( from: Nixon's History of Lincoln County: The Revolutionary War Period)

"In Tryon County there were many loyal subjects of the king, and there was likewise a gallant band of patriots who as early as August, 1775, adopted and signed the following bold declaration:

"The unprecedented, barbarous and bloody actions committed by British troops on our American brethren near Boston, on 19th April and 20th of May last, together with the hostile operations and treacherous designs now carrying on, by the tools of ministerial vengeance, for the subjugation of all British America, suggest to us the painful necessity of having recourse to arms in defense of our National freedom and constitutional rights, against all invasions; and at the same time do solemnly engage to take up arms and risk our lives and our fortunes in maintaining the freedom of our country whenever the wisdom and counsel of the Continental Congress or our Provincial Convention shall declare it necessary; and this engagement we will continue in for the preservation of those rights and liberties which the principals of our Constitution and the laws of God, nature and nations have made it our duty to defend. We therefore, the subscribers, freeholders and inhabitants of Tryon County, do hereby faithfully unite ourselves under the most solemn ties of religion, honor and love to our county, firmly to resist force by force, and hold sacred till a reconciliation shall take place between Great Britain and America on Constitutional principals, which we most ardently desire, and do firmly agree to hold all such persons as inimical to the liberties of America who shall refuse to sign this association.

"(Signed)
ohn Walker, Charles McLean, Andrew Neel, Thomas Beatty, James Coburn, Frederick Hambright, Andrew Hampton, Benjamin Hardin, George Paris, William Graham, Robt. Alexander, David Jenkins, Thomas Espey, Perrygreen Mackness, James McAfee, William Thompson, Jacob Forney, Davis Whiteside, John Beeman, John Morris, Joseph Harden, John Robison, James McIntyre, Valentine Mauney, George Black, Jas. Logan, Jas. Baird, Christian Carpenter, Abel Beatty, Joab Turner, Jonathan Price, Jas. Miller, John Dellinger, Peter Sides, William Whiteside, Geo. Dellinger, Samuel Carpenter, Jacob Mauney, Jun., John Wells, Jacob Costner, Robert Hulclip, James Buchanan, Moses Moore, Joseph Kuykendall, Adam Simms, Richard Waffer, Samuel Smith, Joseph Neel, Samuel Loftin."
OCTOBER 24, 1777
TRYON COUNTY, NORTH CAROLINA
(RUTHERFORD COUNTY, NC)
In the name of God, Amen, I William Whiteside, of the County of Tryon and State of North Carolina, being very
sick and weak in body, but of perfect mind and memory, thanks given unto God, calling unto mind the mortality of
my body and knowing that it is appointed for all men out to die, do make and ordain this my last will and testament,
that is to say principally and first of al I give and recommend my soul into the hands of almighty God that gave it and
my body I recommend to the earth to be buried in descent Christian burial at the discretion of my executer, nothing
doubting but at the general Resurrection I shall receive the same again by the mighty power of God and as touching
such worldly estate wherewith it has pleased God to bless me in this life I give, devise and dispose of the same in
the following manner and form: I give and bequeath unto my well beloved wife Elizabeth , my household goods and
moveable effects and also my pantation during her life and after her decease al the moveables to be equally divided
between my children, Davis Whiteside & Robert & James & Margaret and William, Thomas and Samuel & Adam,
and if she should depart this life before my son Francis Whiteside comes of age my children above mentioned to
have the benefit of the plantation and so soon as my son Francis Whiteside comes of age he may enter in
possession of the same for I do bequeath my land to him allowing him to pay Twenty Pounds to my daughter Ann
in twelve months after he enters into possession of my plantation and also to pay to my daughter Elizabeth Twenty
Pounds of the value of the land in two years after he enters into possession of said plantation and the third year he
shall pay my daughter Sarah Twenty Pounds, all lawful money of North Carolina. I also give and bequeath my son
James Whiteside my land on the South Mountain in Virginia, Augusta County, allowing him to pay fifteen pounds
Virginia Currency towards the discharging my debts and the remainder of my debts to be paid out of moveables
before divided. I also appoint and constitute my sons William Whiteside and Thomas Whiteside to be my executers
of this my last will and testament and I do here by utterly disallow, revoke and disannul all and every other former
testaments, wills, legacies, bequests and all executers by men any wise before named, willed and bequeathed ,
ratifying and confirming this and no other to be my last will and testament, In witness whereof I have here unto set
my hand and seal, this Twenty Fourth of October in the year of our Lord One Thousand Seven Hundred and
Seventy Seven. Signed, Sealed, published, pronounced and declared by the said William Whiteside as his last will
and testament in the presence of us who in his presence and in the presence of each other have here to subscribed our
names.--- HIS X MARK William Whiteside--- Davis Whiteside--- James Whiteside (wits.)
Whiteside Settlers in Illinois
History of Whiteside County Illinois
By Charles Bent (1877)
The settlement of the "New Design" which cut quite a figure at the end of the last Century was near the present town of Waterloo, Monroe County, was made up of numerous emigrants from Kentucky. This colony was composed mostly of the Whitesides and their numerous connections. The leading man was William Whiteside. He was a soldier of the Revolutionary War, who had fought at the battle of Kings Mountain. The family soon became numerous and influential in Southern Illinois and no name was better known than that of William Whiteside, sometimes called Captain and at other times Colonel.
In Peck's Western Annals speaking of the state of things in 1793, this was a period of contention and alarm-the little settlements were strengthened this year by the addition of a band of emigrants from Kentucky amongst whom was the family of Whiteside.
William Whiteside built a fort called Whiteside Station on the line of travel between Kaskaskia and Cahokia and in what is now Monroe County. At this period the Indians were very troublesome, a party of Kickapoos headed by the celebrated war chief "Old Pecan" made a predatory excursion into the "American Bottom" and a number of citizens immediately rallied to repulse and pursue them. William Whiteside who is described as a man of great prudence and unquestioned bravery in Indian Warfare was chosen the commander.
Such were his feats of daring and courage and so well known did he become to the Indians that it was said from that time, "the very name of Whiteside struck terror among the Kickapoo's." Governor Reynolds said of him that he was cool, firm and dedicated a man as ever lived, scarcely any of the family knew what fear was.
A brother of William Whiteside was John Whiteside who settled and died in Bellefontaine, Illinois. He was a brave and true man but not as distinguished as his brother William. He was a Col. Of St. Clair County Militia in the War of 1812, a Justice of the Peace and Judge of the Court of Common Pleas of the County. He died at his residence at "The Station" in the year 1815 universally respected.
John Whiteside was the father of Samuel Whiteside who was a prominent man in his day, well known as a Ranger and an Indian fighter who was appointed by Governor Reynolds, Commander of all the Illinois Troops in 1832 in the expedition against Black Hawk. Whiteside County Illinois was so named after General Samuel Whiteside.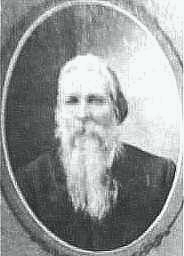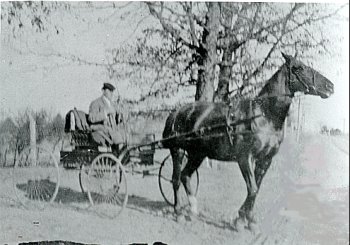 Thomas A. Whiteside Olive Messenger Whiteside Thomas Whiteside reading Thomas Whiteside with Horse and Buggy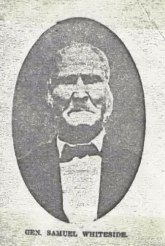 General Samuel Whiteside

Black Hawk