Kimball

My Kimball line traces back through my paternal grandmother's line to Richard Kimball who was married to Betsy Allen born 1787. One of their children was Nathan Allen Kimball born April 1817 and died February 05, 1860.
Complete information on this line can be downloaded from my GED.COM file by request.
John A. Kimball family: Seated:Grace John, Pearl, Jane, Cora Stamding: Bruce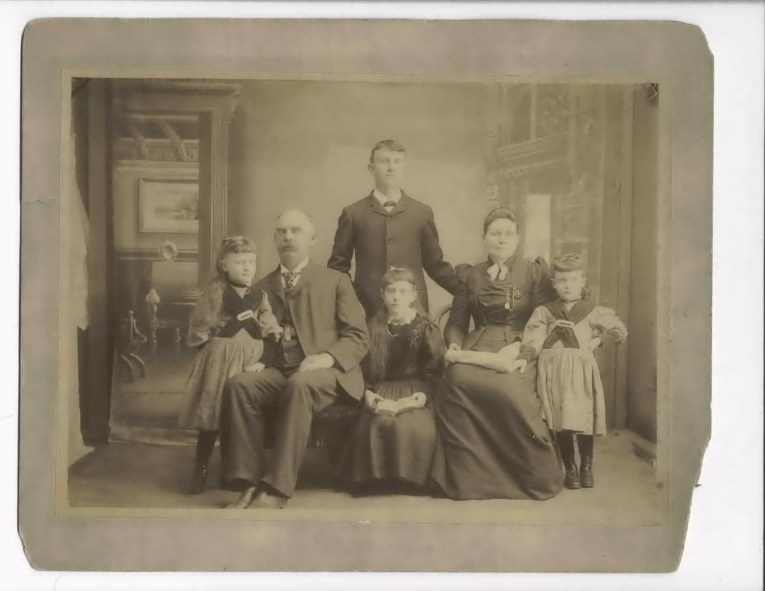 Text from:
Pages 221-222 PORTRAIT AND BIOGRAPHICAL RECORD
RICHARD KIMBALL is one of the enterprising merchants of Mt. Auburn, and has been a resident of Christian County for three decades. He carries a well-selected stock of general merchandise and has a well-estab-lished business. He is accounted one of the sub-stantial citizens of the county, and by his methods of fair dealing has established an enviable reputation.
Mr. Kimball is a native of Vermont, born near Montpelier, Washington County, May 21, 1846.
His grandfather, Richard Kimball, was born in Boston, Mass., and was of Scotch parentage, his ancestors having lived in the Highlands of Scot-land. Coming to the United States, they settled in New England prior to the War of the Revolu-tion. For a number of years, Richard Kimball was engaged in business in Boston.
Nathan Allen Kimball, the father of our subject, was born and grew to manhood in Vermont. He there married Sarah Stagg, also a native of the Green Mountain State, and after that event he engaged in milling and merchandising for many years. In 1855, he concluded to seek his fortune in the West, and, coming to Illinois, settled in Rochester, where lie engaged in the same business. He died in 1860. His wife, who survived him for a number of years, passed away in Missouri.
In the family, comprising three sons and three daughters, Richard Kimball is the second in order of birth. One sister has since passed to the home beyond. Our subject was only nine years old when his parents brought him to Illinois. He was given good school advantages, and in 1863, when in his seventeenth year, be came to this county and entered the employ of M. Stafford & Co. as a clerk. He continued with this firm for ten years and received thorough, practical business training. In 1873, Mr. Kimball bought out the old firm and succeeded to the business. Since that time he has carried it on alone and has been fortunate in his management of the enterprise.
In Christian County, on the 26th of February, of 1873, a marriage ceremony was performed which united the destinies of Mr. Kimball and Miss Frances J. Henderson. Her father, John A. Henderson, is one of the earliest settlers of this county, and is a son-in-law of old
Gen. Whiteside,
of Southern Illinois. Mrs. Kimball was born in Madison County, IL., and by her marriage has become the mother of four children. The eldest,. John A., is a talented young man. The younger members of the family are called respectively: Pearl, Grace and Cora. The parents hold membership with the Christian Church. Mr. Kimball is a member of the Masonic fraternity, is a Royal Arch Mason, and a member of Illiopolis Chapter. The political support of Mr. Kimball is given to the Democratic party on all national issues. He has found his time and energies necessarily devoted to his business interests, and has therefore never accepted official honors. He is well known to be a man whose word is as good as his bond, and in all his dealings with his fellow men his course has been marked by a high sense of honor and justice."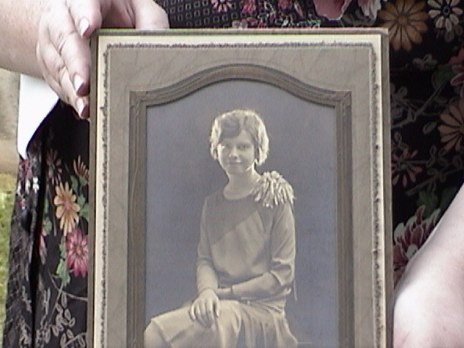 Carolyn (Kim) Kimball Grieder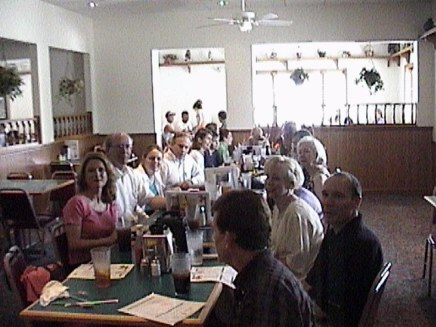 Some of Carloyn's children, spouses and grandchildren
June 2002, Taylorville, Illinois