Montgomery

I have been able to trace my immediate Montgomery line to Archibald Montgomery who was born in Northern Ireland and died and was buried in Maryland. His wife was named Elizabeth. I do not know her maiden name.
One of his sons was John Montgomery who was born on October 8, 1792 in Northern Ireland. He died on September 27, 1875 and is buried near Mount Auburn, Illinois. I do not know of the names or genders of his siblings. I do know that he had two wives. The first was in 1846 to Rebecca Bishop who died. To the best of my knowledge, this marriage did not yield any children. His second marriage was to Mary (Polly) Bailey who was born 2/21/1789 and lived until 8/31/1844. They had several children: Archibald, Jonathan B., John Elder, Asa, Levi, William, Elizabeth and Mary.
My line continues from Levi who was born 3/24/1827 in Maryland and died 2/09/1869 and was buried in Mt. Auburn, Illinois. Levi was married to Jane Ann Linn on 12/15/1850 and had 7 children: Arthur, Mary Elizabeth, Joseph Edward, Thomas Albert, Hiram Linn, Effaline and Clinton Levi. This Montgomery-Linn union was the start of an annual Montgomery-Linn Reunion which continues today.(see below)
My next Grandfather was Hiram Linn, then
T
homas Levi
and then my father Leland Thomas Montgomery.
Complete information on this line can be downloaded from my GED.COM file by request.
Of interest is the fact that my father Leland Thomas Montgomery married my mother Esther Marie McCambridge who was the Granddaughter of Esther Montgomery in Northern Ireland.
(See

Andrew Aiken and Esther Montgomery
)
Check out my other web page:

Montgomery-Linn Reunions
are held the Third Sunday of Each September at 12:00 noon until about 4:00pm
in Mt. Auburn, Illinois at the Community Center... All are welcome! The meal is Potluck... Bring a dish to share and your own place settings and beverages. Coffee is provided. A free will donation is collected at the end of the day to help defer costs of renting the community center. Come for fellowship, sharing, remembrances and a brief business meeting. There are games and activities for small children. This reunion celebrates the memory of the union of Jane Ann Linn and Levi Montgomery; their Descendants and ancestors. These reunions began on the farm of Jane Ann Linn in the early 1900s and have continued annually ever since. Records of these reunions are held by the family historian, family secretary and at the Christian County Historical Society located in Taylorville, Illinois.
.
Some of the Surnames associated with this family line are
Linn, Montgomery, Younker, Householder, Bailey, Whiteside, Whitsell, Henderson, Cole, Kohl
Jane Ann Linn and Levi Montgomery had the following children:
1) Arthur Montgomery
2) Mary Elizabeth Montgomery (Younker)
3) Joseph Edward Montgomery
4) Thomas Albert Montgomery
5) Hiram Linn Montgomery
6) Effaline Jane Montgomery
7) Clinton Levi Montgomery
A Brief Overview: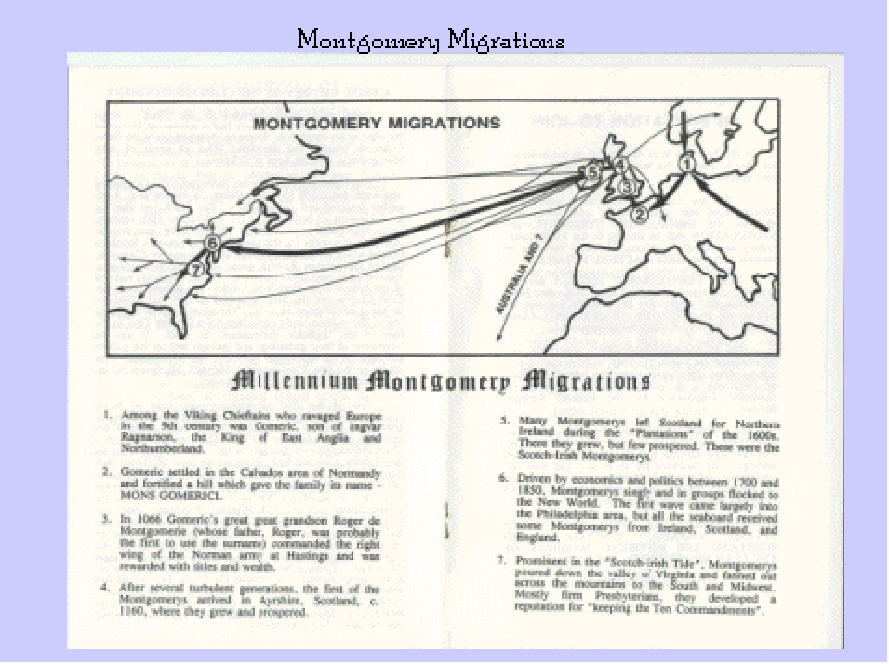 Source= Clan Montgomery Society
"The Montgomerys are a lowland clan of Anglo-Norman orgin. Roger de Montgomery, a Regent of Normandy, followed William the Conquer to England where he was created Earl of Arundel. His grandson Robert de Montgomery, came to Scotland in the train of Walter, the first high steward of Scotland, in the reign of David. Robert, who received the manor of Eaglesham, for long the principal home of the Montgomerys, wittnessed the foundation charter of the monestery of Paisley in 1160. Sir John Montgomery, 7th of Eaglesham, didtinguished himself at the Battle of Otterburn in 1388 by capturing Henry Percy, called Hotspur. With Percy's ransom Montgomery built Polnoon Castle. He married Elizabeth de Eglinton and obtained the lands of Eglinton and Ardrossan. Sir Alexander Montgomerywas Governor of Kintyre and Knapdale in 1430 and some time later was created Lord Montgomery. Hugh, 3rd Lord Montgomery, was created Earl of Eglinton in 1507. Hugh, 2nd Earl supported Queen Mary and was taken prisoner at the Battle of Langside in 1568. Hugh 5th Earl died died without issue and the Earldom passed to his cousin Sir Alexander Seton who took the name and arms of Montgomery. George Montgomery, second son of Sir Alexander, 1st Lord Montgomery, was progenitor of the Montgomerys of Skelmorlie, and in the "Roll of Landlords in the Highlands and Isles where broken men dwelt, 1587", is mentioned. The Laird of Skelmorlie and Rauchry appears to be the island of Rathlin. During the Plantation of Ulster at the end of the 16th century, Laady Montgomery of Eglinton set up linen and woolen manufactures in Ireland and encouraged the making of tartan there." (1996, Regis heritge)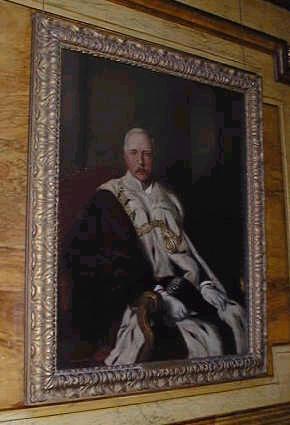 Sir Mathew Montgomery Lord Provost of Glasgow1921-1926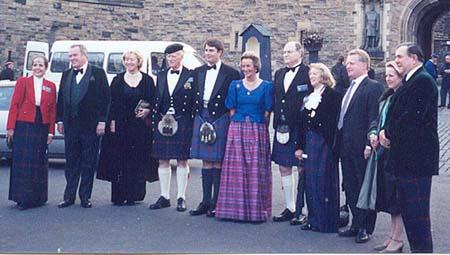 Montgomery Nobility in the year 2001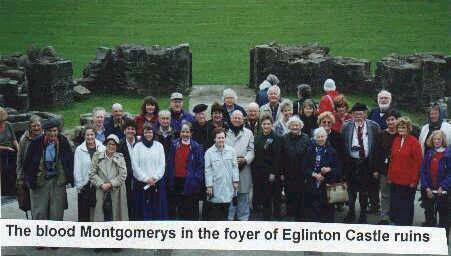 Clan Montgomery Society Montgomerys visit Eglington Castle ruins...
More can be seen at the Clan Montgomery Site
PAGE 948 HISTORY OF CHRISTIAN COUNTY
"

Montgomery, Thomas L., a. prosperous merchant of Mt. Auburn, and one of the leading men of Christian County, was born in this county, November 11, 1882, a son of Hiram L. and Mary (Cole) Montgomery, natives of Christian County, farming people who now reside a little south of Mt. Auburn, where they are welt and favorably known. Thomas L. Montgomery attended the public schools of Christian County, and the Gem City Business College at Quincy, IL. He began working as a traveling man for the Savage Grocery Company, of Decatur, IL., a wholesale grocery house, his territory covering the states of Iowa and Minnesota,' and remained with them for about one year, when he returned home and worked on his father's farm for another year. In 19O3 he bought an Interest in the firm of McKee & Huff, which became known as McKee & Company, and after two years he and his uncle bought Mr. McKee's Interest and the firm became T. L. Montgomery & Company, composed of T. L., H. L. and T. A. Montgomery, which association continues, the business being a large and flourishing one. Mr. Montgomery takes pride in keeping all of the records of the house's transac-tions so that from those of the early days he can draw a contrast and thus show how the business has Increased. This company has one of the finest and best stocked stores in the county, and custom Is attracted to it from a wide territory. The company has stock in the Northern Jobbing Company of Chicago, and this connection enables the house to offer exceptional opportunities to the careful buyer. On October 25, 1905, Mr. Montgomery was married at Mt. Auburn to Grace Kimball, a daughter of Richard and Frances (Henderson) Kimball. natives of Vermont and Illinois, re-spectively. Mr. Kimball was one of the earliest merchants of Christian County, and is now a clerk in the Montgomery & Company store of Mt. Auburn. Mr. and Mrs. Montgomery have one son, Howard K., who was born April 14, 1909. He belongs to Mt. Auburn Christian Church, and was treasurer of the Sunday school for five years, and has been treasurer of the church since 1909. Mrs. Montgomery also belongs to this church, and Is very active In the work of the C. W. B. M. They are most estimable people and have many friends in this neighborhood."